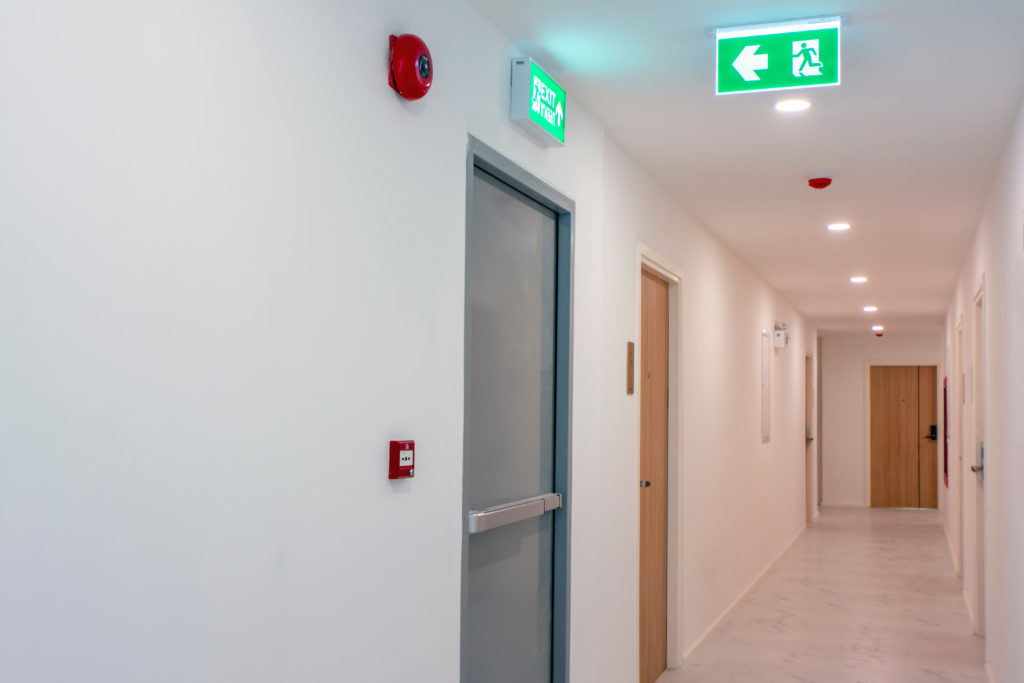 If you want to buy commercial doors for your unique needs, continue reading to learn more about what a commercial door is, what to look for and how to pick the best one for your needs.
What exactly are commercial doors?
Commercial doors, as the name suggests, are doors that are specifically designed for commercial use. They are commonly seen in schools, office buildings, retail establishments, hospitals, manufacturing plants, and other commercial structures. These doors are made to be more durable than residential doors in order to endure climatic changes and various levels of wear.
The Different Types of Materials Used in Commercial Doors
Commercial Steel Doors/ Metal Doors
Commercial Steel doors give a high level of protection and longevity due to its toughness and thickness. Steel is a typical material used in business doors. Metal sheets are wrapped over a honeycombed core or insulation to make these doors. Locking mechanisms can be installed in these doors to increase their security.
Commercial Wood Doors
Thin wood veneer sheets are wrapped over a composite core comprised of solid timber, particle board, or pressed mineral materials to make wood doors. These doors are typically utilized in business interiors. However, this style of door is not as long-lasting as the others. Commercial Wood Doors are extremely delicate and cannot tolerate strong weather conditions.
Glass & Aluminum Doors
Because of their stylish, sleek, and clean appearance, these doors are employed in commercial establishments. Aluminum doors with glass are minimal maintenance, requiring simply cleaning and polishing to keep them in good condition.
Fiberglass Entry Doors
These doors are made with a plastic matrix and tiny glass fibres. Fiberglass doors are well-known for their durability. If you want long-lasting commercial doors, this is an excellent alternative.
Commercial Glass Doors
These doors are mostly used for decoration. Safety glass is used in the manufacture of full glass doors to prevent injury.
Overhead Doors
Steel sheets are used to make overhead doors. Because of their huge door apertures and space-saving design, these doors are popular for usage in storage facilities, warehouses, ports, and other sites.
The Four Fundamental Types of Commercial Doors
Commercial doors are commonly seen in a variety of commercial buildings, however there are four primary types of these doors:
Sliding Doors
These doors may be made and constructed in a wide range of colours, materials, forms, sizes, and combinations.
This sort of door is useful in lowering the dangers in buildings that are exposed to fuel and other hazardous substances. These doors are constructed of fire-resistant materials. They keep the fire from spreading throughout the structure.
Scissor Gates
To provide utmost security, these are manufactured of high-quality steel. As a result, commercial organizations such as banks, lending firms, and other connected enterprises favour scissor gates.
Overhead Doors
These doors are best suited to warehouse sheds or garages. This sort of door also saves space. These doors, unlike swinging doors, may be rolled upward.
When looking for the best commercial doors, selecting the top source can help you. Specialty Product Hardware is a dependable commercial door supplier. SPH Canada is well-known for offering high-quality commercial doors at competitive pricing. Our extensive variety of commercial doors is built to last for many years. The best part is that no other firm can match our pricing! You can locate the best doors for your commercial needs with us. Materials and designs are carefully chosen for their usability, durability, and effectiveness.
With many years of expertise in this area, our organization can provide a high-quality yet cost-effective product variety for homes, as well as small and large businesses. There are several door providers on the market today, but Specialty Product Hardware is your reliable commercial door partner when it comes to astonishing arrays of high-quality commercial doors.
Helpful Hints for Buying Commercial Doors
If you are considering purchasing this style of door, the following are some useful hints:
Determine the Type of Material Required
Commercial doors are particularly made and intended to endure high pressure, temperature variations, and climatic changes. Durability, on the other hand, may vary depending on the material utilized. Commercial metal doors, for example, have a very long lifespan; they may survive for at least 30 years. Commercial wooden doors, on the other hand, are less expensive but less durable. Indeed, each type of material used in the manufacture of business doors may assist you in determining which one best meets your requirements.
Select the Style/Model Required
Another item to consider is the type of commercial door you require. There are many different styles or models to pick from. Each model has its own set of features and benefits.
Choose a Reliable Commercial Door Supplier
There are several services available nowadays, however it is always advisable to select a reliable one. This provides you with piece of mind and assurance that you are making the proper decision.
Seek Professional Assistance
It is important to remember that installing a commercial door on your own might be harmful.
Benefits of Commercial Doors
Commercial doors are used in educational institutions, retail establishments, hospitals, parking garages, and commercial structures for a variety of reasons. Some of the benefits of these doors are as follows:
Attractive Appearance and Longevity
With the advancement of current technology, commercial doors are now produced with elegance and expertise. These doors are finely crafted to fulfil fire safety regulations as well as the most discerning aesthetic criteria. They often come in a variety of styles, paint finishes, sizes, and materials. Commercial doors are long-lasting and provide any firm a more professional appearance.
Warranty-backed but cost-effective
Commercial doors are, in fact, more expensive than residential doors. It should be emphasized, however, that the usage of commercial doors is seen to be cost effective. These doors come with warranties and guarantees. They are also made of high-quality materials, so you can be certain that you will save money with these doors.
Consistent Performance
There has been a change in the functioning of commercial doors during the last several years. You may now get commercial doors with increased functionality for a smoother functioning. The majority of them have useful facilities that can deal with alarming events, fires, and harsh weather circumstances.
Adequate Security
Commercial doors are especially built to give the highest level of protection to a certain building or institution. There is no question that commercial doors are used by a variety of enterprises and industries due to the materials used in their manufacture.
It is impossible to deny that the usage of commercial doors is a need for practically all enterprises and structures all around the world. These doors not only provide protection, but they also provide you with piece of mind and assurance that your business is secure.
Commercial Door Maintenance Suggestions
Although we are able to manufacture highly robust commercial doors, it is always recommended to maintain your door in order for it to survive. No matter what material it is constructed of, keep an eye out for any symptoms of deterioration on a frequent basis. You should also examine the commercial door hardware such as hinges, locks, handles, springs, and other hardware and moving parts on a regular basis.
Basic repair abilities are advantageous. However, if you see any symptoms of complicated damage, do not hesitate to contact a reputable commercial door expert to avoid major damage or injury. Keep in mind that commercial doors are manufactured to certain specifications. So, if you see any indicators of harm, don't be afraid to seek expert assistance.