Commercial Soap & Hygiene Dispensers
Specialty Product Hardware (SPH) is Ontario's Leading Supplier and Distributor of Commercial Soap & Hand Sanitizer Dispensers. SPH Canada's Commercial Soap & Hand Sanitizer Dispensers have it all: rugged engineering, durability, premium design, leading product innovations, and a wide variety of colours and finishes. Our Commercial Soap Dispensers are engineered to stand the test of time exceeding Canadian requirements to provide a valuable, premium quality product for a great, economical price.
Canadian Commercial Soap Dispenser Product Suppliers
The Most Comprehensive Selection of
Hand Hygiene Dispensers in Canada!
Specialty Product Hardware Ltd. is not your typical Canadian Soap Dispensers & Hand Sanitizer Dispenser Supplier & Distributor. Our sales staff come from a range of background such as product engineering, manufacturing, fabrication, sales, and construction, which allows us to provide you with the best commercial washroom product service throughout Ontario. Our Expert Commercial Washroom Product Team, has the technical and practical experience and know-how to get you the commercial washroom product you need – when you need it! We provide a simple and streamlined ordering process to get you the paper towel dispenser product faster than the competition, which can be a lengthy and stressful wait during a construction project. 
Just need a single commercial paper towel dispenser – no worries! Our sales staff is more than happy to provide a hand getting you the best product for your budget. 
Our Paper Towel Dispenser Products are Perfect for:
Hand Hygiene Dispenser Suppliers!
We'll help you find the
right product
When it comes to finding the right product for your commercial washroom needs, we understand that it can be stressful. We are here to work with you to find exactly the right fit for your project – zero worries, zero stress – just results.
Looking to get a Quote on your Project?
When it comes to finding the right commercial soap & hand hygiene dispenser for your project needs, we understand that it can be stressful. We are here to work with you to find exactly the right fit for your project – zero worries, zero stress – just results.
Commercial Soap Dispenser & Hand Sanitizer Dispenser Suppliers
From North America's Most Specified & Leading
Commercial Soap Dispenser Brands
Toronto | GTA | Barrie | Hamilton | Niagara Falls | London | Vaughan | Mississauga | Brampton | Pickering | Newmarket | Ottawa | Sudbury
Looking for quality Commercial Hand Hygiene Dispenser Products? Look NO Further! We sell various models of soap dispensers including surface mounted, recessed, electric, adjustable height, stainless steel, automatic, surgical, and more. Commercial Soap Dispensers by great brands including AAMCO, Frost, Metpar and more. We sell various models from floor mounted, horizontal, recessed, lavatory mounted, powdered soap, liquid, push-up, surgical and stand-alone soap dispensers. 
Let Us Help You with all of your Commercial Soap Dispenser & Hand Sanitizer Dispenser Requirements!
Commercial Washroom Product Suppliers in Ontario
Specialty Product Hardware has been complete commercial washroom product solutions for a wide range of Commercial, Educational, Institutional or Hospitality projects for General Contractors, Architects, and Private Clients. At Specialty Product Hardware, we specialize in the Supply of Commercial Soap Dispensers, Hand Sanitizer Dispenser, Automatic Soap Dispensers and much more! With our large inventory, it allows us to get you the commercial washroom product when you need them, drastically reducing the industry-standard lead times. Our conveniently located showroom is open to the public and all construction professionals to visit and see the inventory in-person. 
Our Featured Soap Dispenser Products
All-American Metal | Frost Products | Metpar and Many More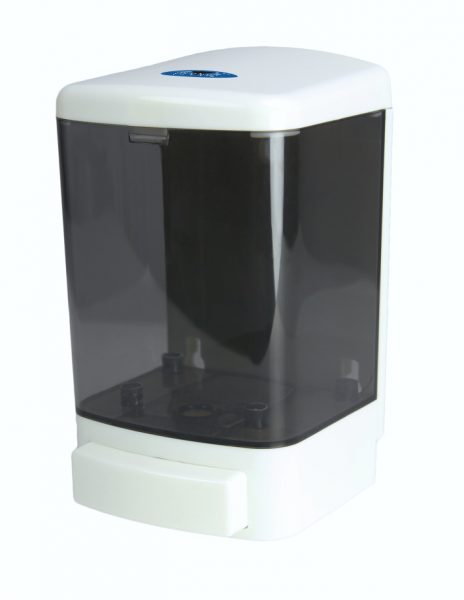 Frost 700 – Manual Liquid Soap/Sanitizer Dispenser
Frost's 700 manual liquid soap and sanitizer dispenser is practical, economical, and durable. This unit's all-purpose push type dispensing valve is suitable for easy flowing liquid or lotion soaps, sanitizers as well as shampoos and conditioners.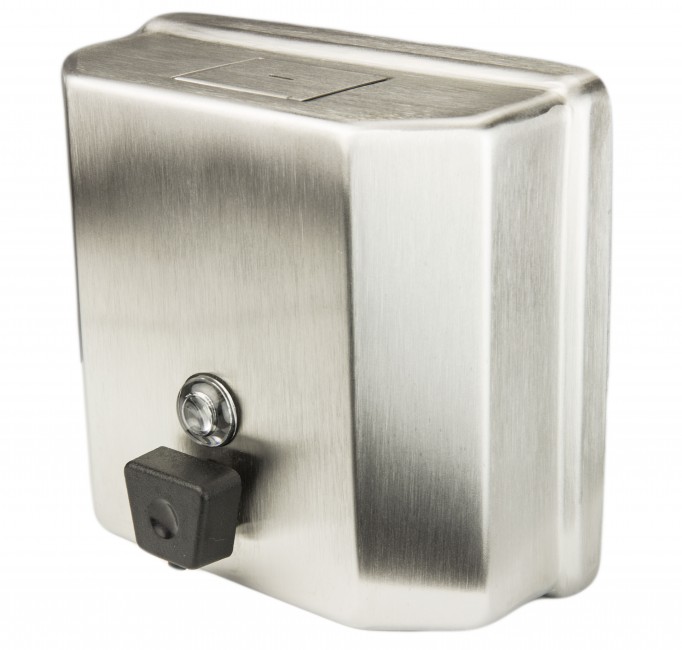 Frost 711 – Commercial Profile Soap Dispenser
Clean low profile configuration allows for flexible integration with many custom design layouts. Easy refill at top. Keyed lock filler cap. All mounting screws concealed. Lucite soap level indicator window.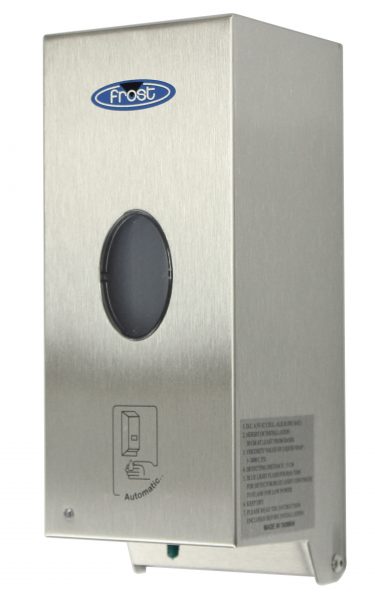 Frost 714-S – Hands-free Soap/Sanitizer Dispenser
Hands free soap and sanitizer dispenser is ideal for high traffic areas and multiple mirror mounting. Bulk fill soap viscosity range of: 2,000 – 5,000 cps, (covers most liquid soap/sanitizer products).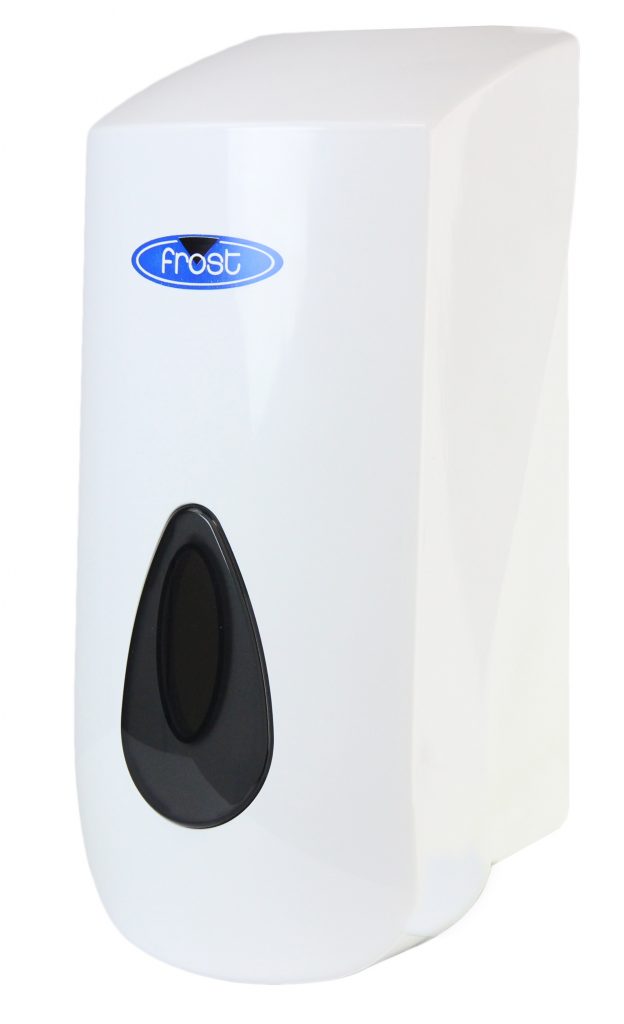 Frost 702 – Manual Foam Soap Dispenser
This product is perfect for use in locations looking for a cost efficient product to dispense foam soap. Its bulk filled reservoir allows the end user to save costs and buy soap in bulk from various suppliers instead of locking into a cartridge system.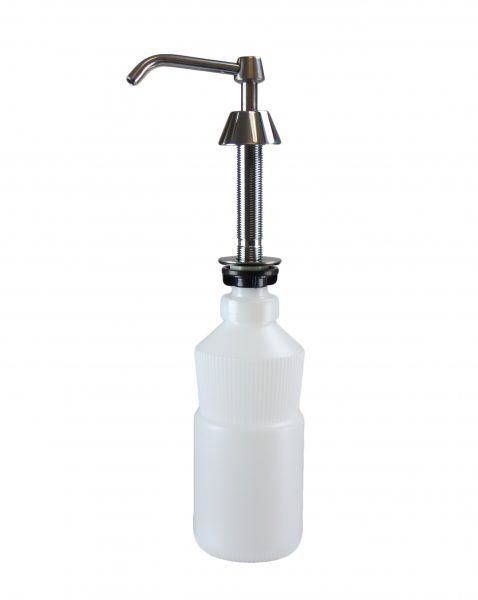 Frost 107 – Multifold Paper Towel Dispenser
Ideal for all types of vanity and countertop mounting. Less than 5 lbs. of force required to activate pump. Chrome plated brass housing. Concealed mounting assembly. Soap can be top loaded. 4″ spout. 1L Fill Capacity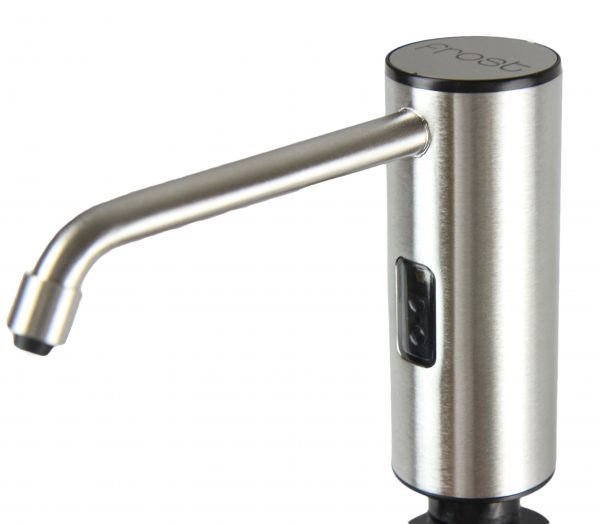 Frost 716 – Hands-Free Commercial Soap Dispenser
Frost code 716 automatic liquid soap/sanitizer dispenser is ideal for all types of counter or vanity mounting. Main housing is stainless steel, type 304, with a satin finish. Bulk loading refill capacity: 1.5 litres (50.7 fl. oz.).
Need a Stand for your Soap or Hand Sanitizer Dispenser?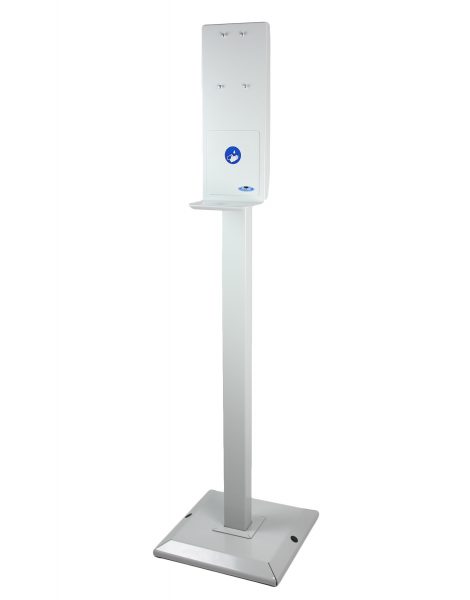 Frost 1600 – Universal Hand Sanitizer Stand
This product is made of heavy duty steel and finished in outdoor quality powder coated grey paint. The product is commonly used in office buildings, reception areas, hotels, airports, universities/schools, health care facilities, retail, and other public areas
Want to See More Options?