Commercial Paper Towel Dispensers
Specialty Product Hardware (SPH) is Ontario's Leading Supplier and Distributor of Commercial Paper Towel Dispensers. SPH Canada's Commercial Towel Dispensers have it all: rugged engineering, durability, premium design, leading product innovations, and a wide variety of colours and finishes. Our Commercial Paper Towel Dispensers are engineered to stand the test of time exceeding minimum requirements to provide a valuable, premium quality product for a great, economical price.
Ontario Commercial Paper Towel Dispenser Product Suppliers
The Most Comprehensive Selection of
Paper Towel Dispensers in Canada!
Specialty Product Hardware Ltd. is not your typical Canadian Paper Towel Dispenser Supplier & Distributor. Our sales staff come from a range of background such as product engineering, manufacturing, fabrication, sales, and construction, which allows us to provide you with the best commercial washroom product service throughout Ontario. Our Expert Commercial Washroom Product Team, has the technical and practical experience and know-how to get you the commercial washroom product you need – when you need it! We provide a simple and streamlined ordering process to get you the paper towel dispenser product faster than the competition, which can be a lengthy and stressful wait during a construction project. 
Just need a single commercial paper towel dispenser – no worries! Our sales staff is more than happy to provide a hand getting you the best product for your budget. 
Our Paper Towel Dispenser Products are Perfect for:
Looking to get a Quote on your Project?
When it comes to finding the right commercial paper towel dispenser for your project needs, we understand that it can be stressful. We are here to work with you to find exactly the right fit for your project – zero worries, zero stress – just results.
Commercial Paper Towel Dispenser Suppliers
From North America's Most Specified & Leading
Commercial Washroom Product Brands
Toronto | GTA | Barrie | Hamilton | Niagara Falls | London | Vaughan | Mississauga | Brampton | Pickering | Newmarket | Ottawa | Sudbury
Looking for quality Commercial Paper Towel Dispenser Products? Look NO Further! We sell various models of paper towel dispensers including surface mounted, recessed, electric, adjustable height, stainless steel, automatic, and more. Commercial Paper Towel Dispensers by great brands including Frost, Metpar and more. 
Let Us Help You with all of your Commercial Paper Towel Dispenser Requirements!
Commercial Washroom Product Suppliers in Ontario
Specialty Product Hardware has been complete commercial washroom product solutions for a wide range of Commercial, Educational, Institutional or Hospitality projects for General Contractors, Architects, and Private Clients. At Specialty Product Hardware, we specialize in the Supply of Commercial Paper Towel Dispensers, Combination Units, Automatic Dispensers and much more! With our large inventory, it allows us to get you the commercial washroom product when you need them, drastically reducing the industry-standard lead times. Our conveniently located showroom is open to the public and all construction professionals to visit and see the inventory in-person. 
Our Featured Paper Towel Dispenser Products
American Specialties (ASI) | Frost Products | Metpar and Many More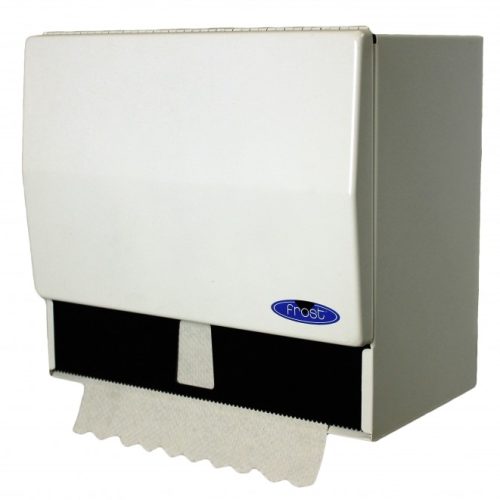 Frost 101 – Universal Paper Towel Dispenser
Front loading for easy service and maintenance. All doors are hinged with full length stainless steel piano hinges. Product shipped with protective plastic coating to be removed after installation. Available with keyed tumbler lock to reduce pilferage on product code 101-1.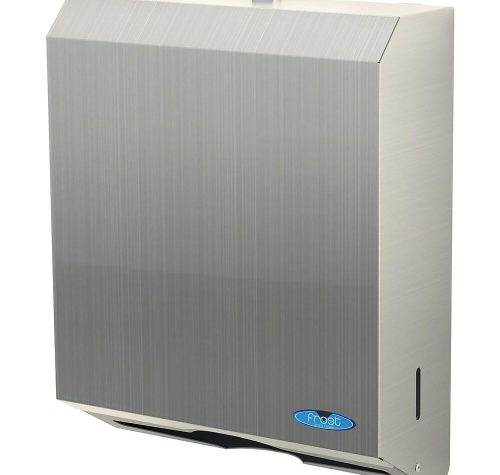 Frost 107 – Multifold Paper Towel Dispenser
Towel opening has rolled safety edge (black finish on all units). All units come with keyed tumbler lock to reduce pilferage and vandalism. Front loading for easy service and maintenance.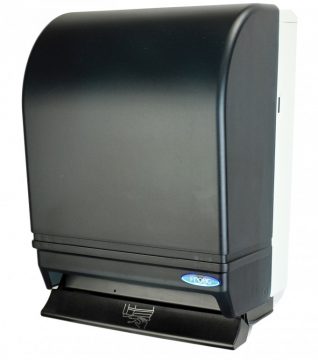 Frost109-50P – Control Roll Towel Dispenser
Controlled delivery is easy with push action lever. Comes with keyed tumbler lock to reduce pilferage and vandalism. Front loading for easy service and maintenance of paper towel dispenser.
Want to See More Options?